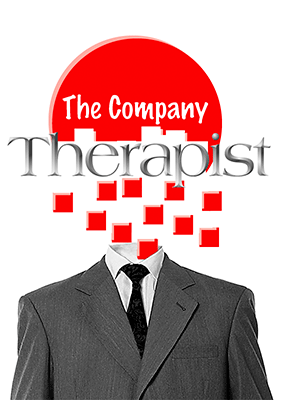 The Company Therapist is at TheTherapist.com. It is an online entertainment, a literary experiment, and a unique experiment in online learning. It is only appropriate for adults.
Short Description
The Company Therapist is a sophisticated collaborative hypertext entertainment where the readers enter the world of psychiatrist Charles Balis. Doctor Balis primarily treats patients who are employees of a large and somewhat eccentric computer company in San Francisco. Through transcripts of therapy sessions, detailed doctor's notes, patients' doodles, personnel files, correspondence, and a variety of other collateral materials, the reader may delve deeply into the lives of the Doctor's fictional patients.
Back Story
Doctor Charles Balis is a young psychiatrist who moved from New York in 1996 to start a solo practice in San Francisco. He was worried about starting out cold, so he contracted about half his time with a local HMO, CalaCare: "There's Health Care and then there's CalaCare." CalaCare services Silicon Impressions Inc.—a Fortune 500 computer company located in San Francisco.
SII produces both software and hardware, and has a pervasive computer-oriented culture. SII tried, unsuccessfully, to acquire Apple Computer in 1997, mostly to satisfy the megalomaniacal desires of its CEO, Lloyd Major. The story and culture of SII are based, in part, on Pipsqueak's own previous work experience with computer companies. SII is Sun and Oracle and Silicon Graphics all rolled into one messy, overworked, unhealthy mess. Hence the need for a company therapist.
SII demands its employees dedicate their lives to its success. Most people who work there put in 60+ hours per week. It isn't uncommon to find programmers sleeping under their desks at odd hours of the day or night—it's darker under there. There are showers and small kitchens conveniently available for employees who don't find the time to go home for several days in a row. Most people who work for SII do not have the time or the energy to socialize off the company's premises—many try to find emotional and sexual fulfillment among their co-workers. Even in a grips of a bitter divorce, a couple is still expected to work side by side and release products on time. Given these circumstances, people find unusual ways to cope. Some people withdraw into emotional isolation. Doctor Balis has a lot of work to do here.
As reported in this faux Wall Street Journal article, SII announced a startling new software product to alleviate the year 2000 bug.
Character Summary: Anna Green
Anna Green explores her sexuality perhaps more than any other character on the site. When Anna started therapy, she had just broken up with her boyfriend Bill, another SII employee. The trauma of that relationship left her unable to work. But, as Doctor Balis found out, Anna has a long list of problems. She spends hours each day fantasizing about the Doctor and inventing elaborate sexual escapades with which to intrigue him during her therapy sessions. Eventually, she gets caught and admits her feelings for the Doctor. In fact, the Doctor also feels strongly for Anna, but is prevented from acting on those feelings by his professional ethics. Anna, however, would perhaps be better served by having a nice stable boyfriend rather than the strange man who is pursuing her—Martin Fleck.
Martin is a brilliant programmer specializing in 3-D graphic algorithms. He is also an artist who keeps drawing erotic pictures of Anna with no head. As Anna gets more involved with Martin, she discovers that he is a submissive more interested in worshipping her feet than meeting her physical needs. After a fairly outrageous discovery period, Anna decides that she likes Martin enough to try this S&M thing herself. The relationship sours after he takes her unprepared to an S&M club gathering.
Although initially repulsed, Anna forgives Martin and decides that she has to understand the pleasures of being dominated herself before she can act as a dominatrix to someone else. She seeks the services of Gray, the "whip master," who both arouses her and abuses his power over her. Anna has a great deal of trouble reconciling her feminist beliefs with her desire to be dominated by men during sex. When Martin pursues her, she ends up living with him and Kathy, a woman who seems more interested in her than in Martin. Anna enjoys being the center of attention, and slowly is drawn into a ménage à trois. But the sexual and practical realities of living in a three-way relationship intrude on the ideal, and Anna finds herself in a competition with Kathy to be the one who will end up with Martin when their three-way relationship crumbles.
Kathy plays dirty and intentionally gets pregnant by Martin. But Kathy is ultimately more interested in Anna than Martin. She gets an abortion, and when Anna moves out, Kathy schemes to move in with her. Without a way to earn a living, Kathy begins an out call dominatrix service and gets Anna swept into a police investigation.
This story plays out over two and a half years and 102 therapy sessions, which are written as dialogues between Anna and the Doctor.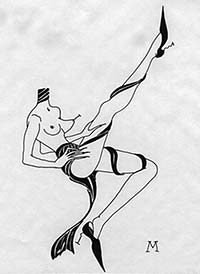 Anna Green is dabbling in S&M and flirting with a three-way relationship to please Martin Fleck, a submissive foot fetishist who has a penchant for drawing headless portraits of her.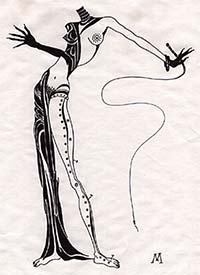 Dr. Balis is torn between his professional ethics and his romantic yearnings for Anna Green.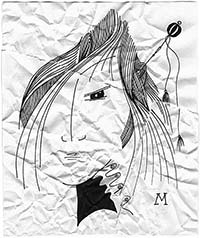 Sometimes Kathy is Anna's closest friend and, other times, she's her nemesis. When their three-way relationship began to crumble, they both found themselves competing for Martin. Anna found this portrait of Kathy that Martin drew and she tore it up. Then she felt bad and taped it back together. Perhaps Anna was jealous because, in contrast to Martin's drawings of her, he was able to draw Kathy's head.
Character Summary: Sylvia Bows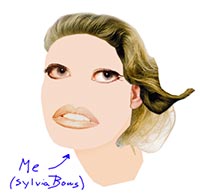 Sylvia Bows used scraps of old magazines to create a portrait of herself.
Sylvia Bows was one of the Doctor's original patients. Sylvia is a high ranking executive at SII. She initially sought psychiatric treatment when she found out that the reason she wasn't able to get pregnant after two years of trying was because her husband had undergone a secret vasectomy. Sylvia was furious. After taking an antidepressant prescribed by Doctor Balis, she rifles through the company's medical records to target men who had recently tested negative for HIV and then starts on a determined series of one night stands with employees of SII, cutting a sexual swath through the male population of the company.
The upshot is that she conceives twins. It turns out that her boys have different gestational ages and different fathers. When one of the possible fathers files suit against Sylvia in an attempt to gain custody, the story becomes public. First the story makes the rounds of SII itself, where the identify of the fathers is waged in office pools. After Sylvia gives birth, the story finds its way into the hands of a local gossip columnist. Sylvia eventually reconciles with her husband and comes to terms with the dying man who sees in Sylvia's sons his only chance of paternity.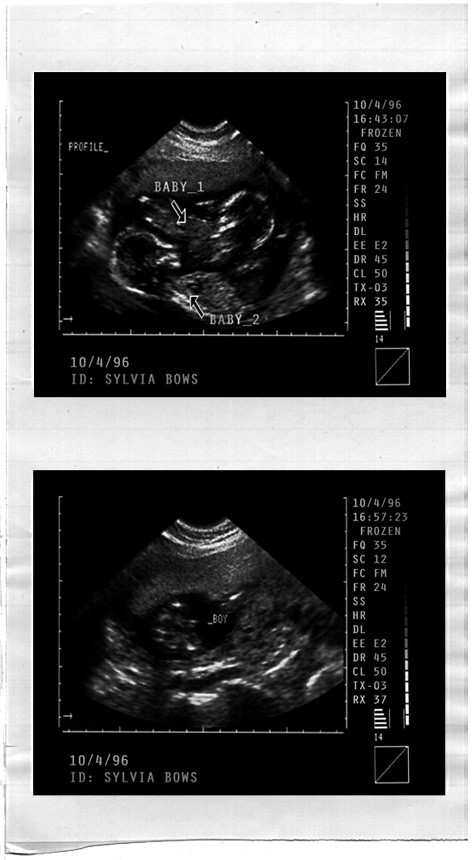 Throughout her pregnancy, Sylvia Bows shares the images of her unborn twins with Doctor Balis.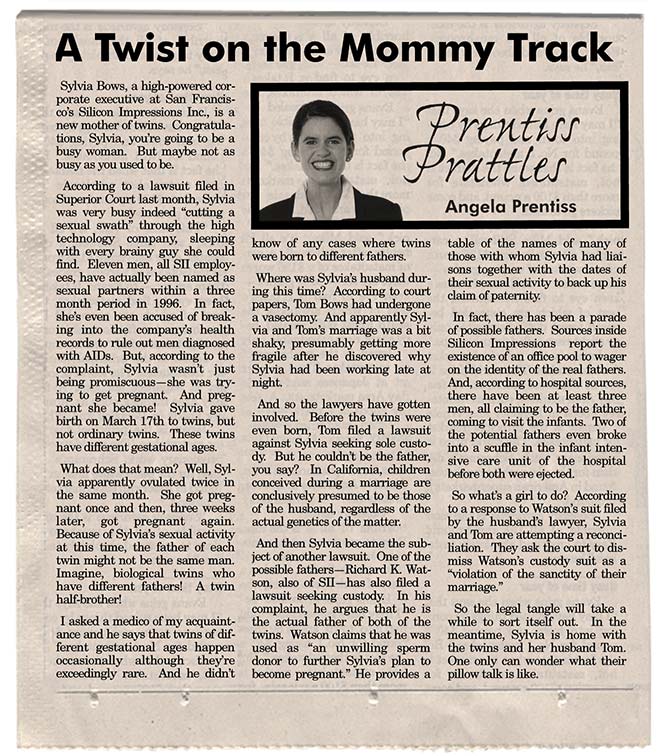 Sylvia is rocked when this catty gossip columnist prints the story about her twins being conceived by different men.
Summaries of Some Other Characters
There are 35 patients on The Company Therapist site. The range of their stories is quite broad. While the writing varies, we strive for a naturalistic style and interesting, believable characterizations. What follows are short summaries of some of the other stories from the patient files of Doctor Charles Balis.
Joseph Mazurka
Joseph Mazurka is a misogynistic racist, who abuses methamphetamines and spins fantasies of starting a paramilitary group. He is recruited by a terrorist organization which uses him as a pawn in a plan to extort money from the government. Joe ends up dead in a dumpster.
Dr. Balis learns of Joseph Mazurka's murder from a newspaper article.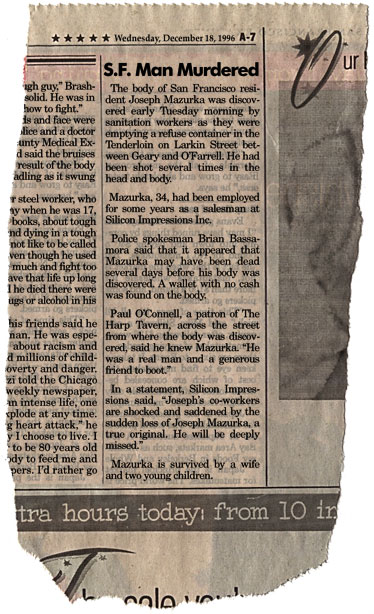 The Anonymous Faxer
The Anonymous Faxer's story is told primarily through graphical faxes. Extremely shy, all the Anonymous Faxer can manage is to send a cryptic but self-revealing image to the Doctor each week. The story, revealed through these bizarre faxes, is about a man who is unhappy with his gender.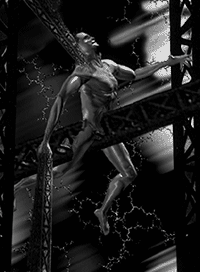 Dr. Balis has received over 45 faxes from the Anonymous Faxer. The images seem to tell the story of a man unhappy with his gender.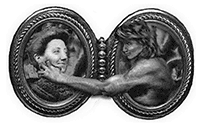 Many of the Anonymous Faxer's images evoke his relationship with his mother.
Peter Hossfeld
Peter Hossfeld is a patient who disdains rigid western belief systems and instead believes in a succession of new age treatments and philosophies. Peter is apparently suffering from epileptic seizures brought on by the flickering of his computer monitor. However, he thinks these seizures are really a gateway to another plane of reality. He starts an affair with Serena, a psychic, who uses oppressive manipulation to completely overwhelm Peter's already fragile grasp on reality. After meeting and falling in love with Eliza, also a patient, Peter tries to break free of Serena's grip. But Serena savagely bites Peter's hand, leading Peter to believe that he harbors an evil entity in his flesh. Peter suffers a complete psychotic break and ends up joining a pack of wild dogs rummaging through the back alleys of San Francisco.
George Landau
George Landau is something of an anachronistic fussbudget, forced into therapy by his younger boss. George sees himself as a person out of his time, fighting against the depersonalization of technology. He's begun to feign illness so that he can avoid a computer training course. He reveals that he suffers from a phobia against machines of all types, believing that they are sentient and evil.
Alex Rozzi
Alex Rozzi began therapy as a 16 year old male prostitute, referred to Doctor Balis by social services. His complex world, with an ever-shifting kaleidoscope of unusual characters, is explored as the Doctor works to pull him back from the abyss.
Kelly Wiseling
Kelly Wiseling is a deaf woman with a sharp tongue and a quick temper. Her childhood was dominated by a mother who desperately wanted a normal, hearing daughter. Kelly was forced to operate in both the hearing and deaf worlds, and now she feels alienated from both of them. Although she has a strong interest in sex—and worries needlessly that she may be a nymphomaniac—her past is marred by romantic disappointments.
Lloyd Major
Lloyd Major is the CEO of SII. Previously Lenny Majedenski, a son of Hungarian Emigrants, Lloyd is in his fifties, the father of two, and prefers sex with young men to sleeping with his wife. He started SII after he made his millions in the hi-tech sports gear material—the stuff that surfing suits and the like are made from. Lloyd thinks that owning a cutting-edge computer company is cool. SII is his biggest toy. Lloyd owns a private island somewhere in the tropics, and his favorite lovers find themselves entertained there, until they grow tiresome. Lloyd believes in the importance of exercise and has mandated that SII executives spend Friday afternoons roller blading as a pack along San Francisco's waterfront. Lloyd Major has became one of Doctor Balis' patients. When Lloyd showed an excessive interest in his nose, many thought that Lloyd had started to abuse cocaine. In fact, Lloyd has persistent sinus problems which are exacerbated by a morbid fear of suffocation.
Hal Mainor
Hal Mainor is a frustrated writer who originally sought Doctor Balis' treatment for writer's block. After a one-night stand with his boss, Sylvia Bows, Hal decides to abandon his family and marry Sylvia to get access to Sylvia's connections to the publishing community. Sylvia sees Hal as an annoying homunculus.
Helen Gregory
Helen Gregory is a brilliant but severely delusional woman reduced to working as a janitor at SII. She's consumed with her fantasies of a complex conspiracy—which may or may not be rooted in truth.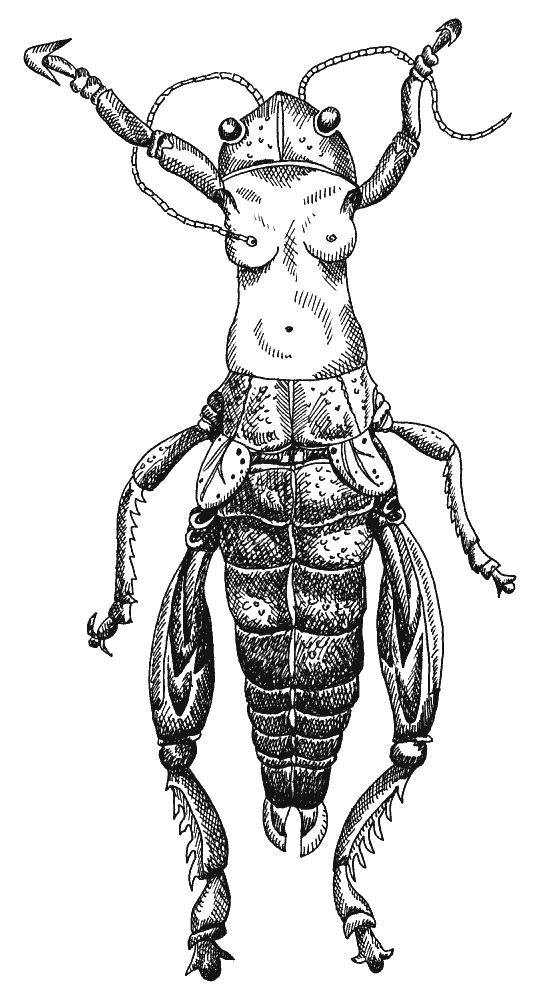 Like her doodles, Helen Gregory's tormentors tend to take on insect-like forms.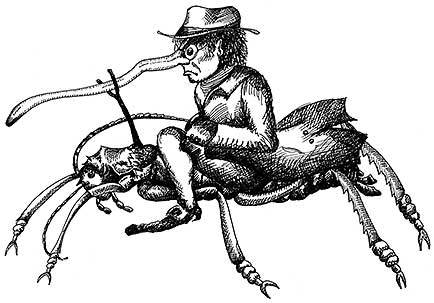 Helen Gregory's world is filled with little beetle-like men who conspire against her.
Online Learning Experiment
More than just an entertainment, The Company Therapist project was a single subject learning system designed to teach creative writing to a small community of self-selected writers. It was a hyperdrama written jointly by its audience.
Broadly, The Company Therapist project was designed to create an educational structure capable of supporting a community of students that had the following characteristics:
were of varying skill levels,

had widely different time availability,

were geographically, culturally, and socially diverse,

didn't know each other,

and only communicated with each other via email.
The Company Therapist project's explicit goals for its contributing student participants were:
to create membership in a long-term writing community,

to give amateur writers exposure to a professional environment (deadline-driven, well-defined standard of quality and format, editorial support, and so on),

to help those students develop their writing skills using a series of instructional support scaffolds, and

to get recognition for writers' work by exposing them to a large audience.
Hyperdrama's unique literary structure is well-suited for group writing. Each writer can contribute a piece to a greater whole and in the process gain experience and improve writing skills. Turning the product of a creative writing course into an online entertainment opened up the project to a much larger community of readers, writers, and reviewers than would ever be possible in a regular brick and mortar classroom, thus turning student work into an authentic writing experience. The Company Therapist exemplifies our educational philosophy on creating authentic activities and using the principal of meaningful learning.
"Entertainment Site of the Year"
The Net Magazine Review
Admit it, you've always had the urge to peek at your co-workers' personnel files. Well, imagine you could, as well as read transcripts from their therapy sessions and find out what the psychiatrist thinks about them. This is The Company Therapist, the best chance to fulfill your sordid desires. Psychiatrist Dr. Charles Balis has recently joined Silicon Impressions, Inc., a fictional San Francisco computer company, to provide treatment for its employees. His patients include a female executive who's sleeping her way through her staff, a paranoid schizophrenic who thinks she's been contacted by aliens, and a crystal meth addict who raped a co-worker. Dr. Balis has also been receiving anonymous faxes showing pictures of dismembered human bodies.
Unfortunately, Dr. Balis isn't handling this stress very well. He's grappling with his attraction to a patient who's a compulsive liar, and he is desperate to track down the anonymous faxer to help him deal with his gender issues.
The site is a voyeuristic fantasy come true. Paw through session transcripts, the doctor's correspondence, and the anonymous faxes—snoop through all the personal details. "[Anna] went to a club in the East Bay and danced and drank until 2 a.m. with Caren. They picked up some young college freshman and decided to go swimming in a lake that, needless to say, was closed at that hour. They all went swimming naked, and after nearly being caught ended up in a ménage à trois on a platform in the middle of the lake." Every patient's life is rife with kinky sex, violence, and mystery. It's a wonder any work gets finished at SII.
[...]
Content drives this site, and it's rich in intrigue and character development. Like any soap opera, there are convoluted plot twists that seem to be leading to an epic climax. But surprisingly, the doctor's clinical diagnoses have a realistic feel that is more like "ER" than "General Hospital." There are plenty of Web soaps out there, but the premise for The Company Therapist is at least original (and pretty addictive). The Company Therapist was created to be an "educational tool for the advancement of adult literacy." A corps of writers and editors are using this "collaborative hyperdrama" format to develop their literary skills. It's an innovative use for the Web, but when the sleaze is so interesting, who cares?—The Net Magazine, March 1997
Some of us have long argued that culture isn't being destroyed in cyberspace, but is actually being reborn here. Many journalists, politicians and educators still haven't grasped this, perhaps because they rarely visit or report on sites like The Company Therapist. The public still often thinks of the Net in terms of thievery, retailing, pornography, and hacking and cracking, but the arts are rapidly moving online, sometimes in quite revolutionary ways. This hi-tech story-telling experiment, which turns storytelling upside down and uses hypertext to create a collaborative narrative, is a terrific case in point.
When the employees of a fictional San Francisco tech company need psychiatric help—a not-unheard-of phenomenon out there—they turn to their fictional Company Therapist, Dr. Charles Balis. I've used the word "fictional" twice because after a few visits to the site, readers quickly forget that this isn't a real shrink working with the stressed-out employees of a real company.
Balis, who completed his psychiatric residency at Columbia Presbyterian in New York City, headed west to set up his own practice, we learn. A shrewd and conservative businessmen, he contracted with CalaCare, Inc., an HMO, and agreed to spend more than half his time providing mental health counseling for Silicon Impressions, Inc., a huge hardware and software firm.
On the site, the stories of Dr. Balis' work unfold through his files, written collaboratively by "patients" who visit the site and create identities. We see transcripts of therapy sessions, phone conversations, personnel records—even doodles. Over time, the continuing stories of Dr. Balis' patients, their psychological problems and dramas, allow the kind of character development normally associated with well-crafted novels, but not with websites.
The stories are almost shockingly realistic and compelling. We get drawn into them, often forgetting that they aren't quite real. Or are they? Some of the created characters—patients Helen Gregory, Decker Jenkins—are so contemporary and recognizable that they surely must reflect, at least in part, the lives of their creators.
The site sees itself not only as entertainment but as an educational vehicle to help writers polish their work—an idea with broad applicability for other professions, from medicine to the law to other arts.
According to Information Arts: Intersections of Art, Science and Technology, a book edited by Stephen Wilson where I first learned of the site, a company called Pipsqueak Productions devised this hyperfictional environment as the perfect vehicle for collaborative fictional storytelling in cyberspace. Very original move. A therapist's office is a font of narrative, a great device for collecting different stories, honing different voices, full of interesting characters with evolving problems and case histories, able to draw on telephone calls and office transcripts, a place to discuss theories of treatment. Balis's world—the pressured, constantly changing world of hi-tech—emerges vividly. Updated daily, The Company Therapist provides nearly two years of well-organized, easily accessible stories, doctor's notes and other materials. Since it's written by its collective audience rather than a single author or the site's creators, the range of tales and voices is fascinating.
Every contributor retains a recognizable style, yet is still able to move the collective narrative forward. In fact, many stories are moving forward at once, relating both to "work" and the personal lives of the patients, each told in an idiosyncratic voice and representing the challenges of a different life, yet collectively, painting a vivid portrait of a culture. This site is unique on the Web, both for its originality and quality of design, strong testimony to the notion online, technology and art are fusing to create things that are as new as they are exciting.
During the three years that The Company Therapist was in production, it received a host of awards and recognition:
The Company Therapist won New Media Magazine's prestigious Gold Medal at the Invision Awards in November 1999.
The Company Therapist was a finalist in the competition for the Best of the Web for 1998 (entertainment category), a semi-finalist in the Global Information Infostructure Awards, and was nominated for the Cool Site of the Year.
In addition, the site was featured on MSNBC's "The Site," CNET's "The Web,"Computer Chronicles, Internet Cafe, Yahoo Internet Life Magazine, New Media News, BayTV News, New Media Magazine, and a host of other TV and print publications across the country.
Some of the awards won by The Company Therapist during its three year run.